HOW IT WORKS
GET IN THE GAME
STEP 1:

HOME PAGE

Go to www.S34T.com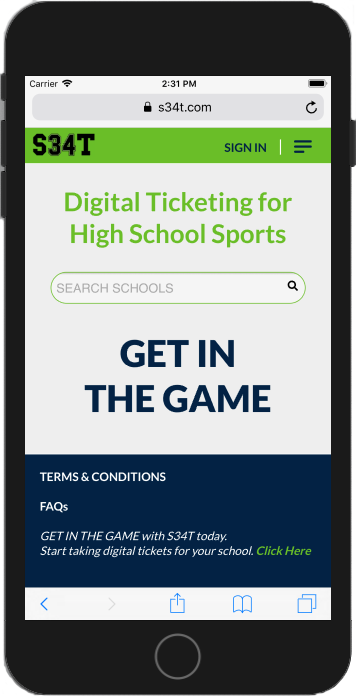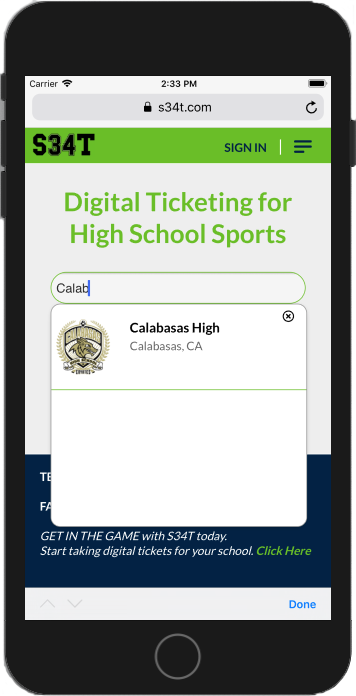 STEP 2:

SEARCH SCHOOL

Click in the "SEARCH SCHOOLS" Box.

Start typing your school's name, it should break down a list showing your school.

Click on your school to see available games.
STEP 3:

DISPLAY ALL EVENTS

Here you will see the games ordered by date for your school.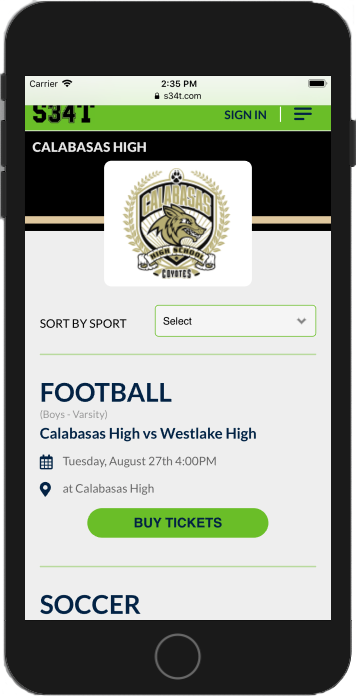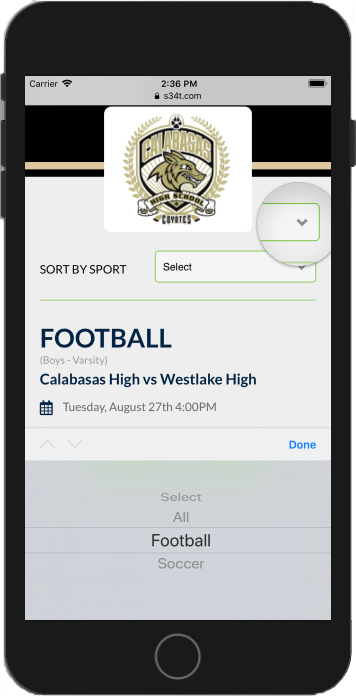 STEP 4:

MINIMIZE RESULTS

If you would like you can select a Sport to show only that sport or scroll through all games listed.
STEP 5:

SELECT EVENT

Click "BUY TICKETS" for specific game that you would like to attend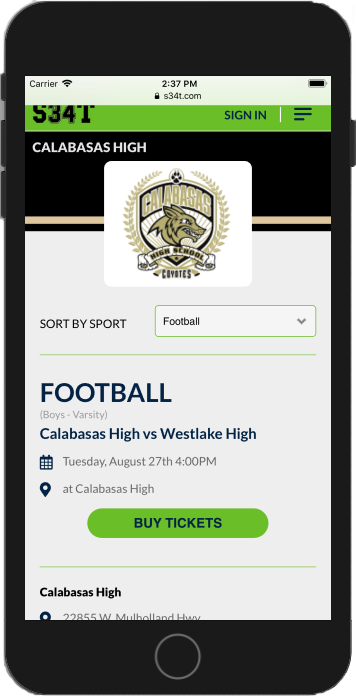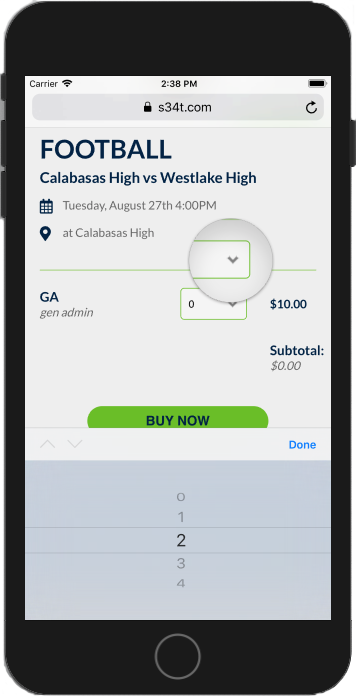 STEP 6:

PICK TICKETS

Select the type of tickets you would like to buy, click drop down arrow and select the quantity.

You can choose between 1-4 tickets per transaction.

Hit the "Buy Now" button.
STEP 7:

CONFIRMATION

This is the confimation page that will list your total.

If you are logged in you can click purchase button.

If you are not logged in click the Login & Purchase button to continue the flow.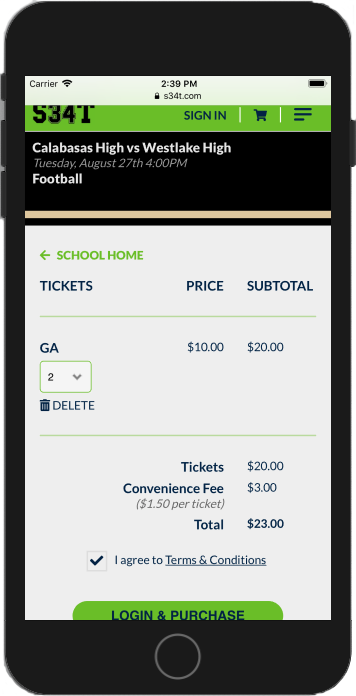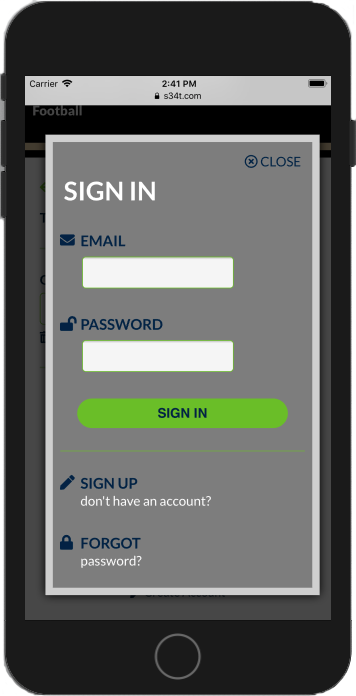 STEP 8:

SIGN IN

The SIGN IN box will pop up. Fill out your Email and Password and click on SIGN IN

If you do not have an account or you forgot your password click on links below SIGN IN form
IF NEEDED:

CREATE ACCOUNT

If you are new to S34T and select CREATE ACCOUNT

Fill out the all of the fields and press continue.

Once logged in you will need to click on the shopping cart in the top nav.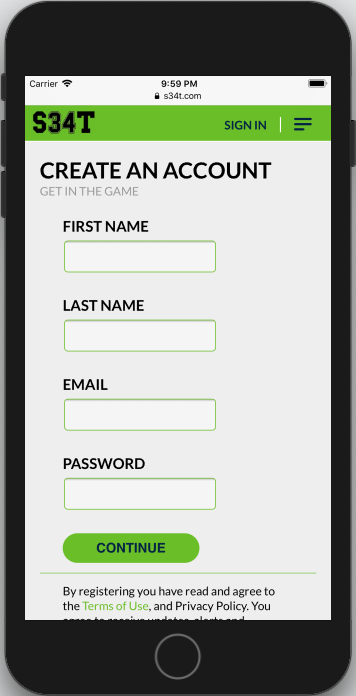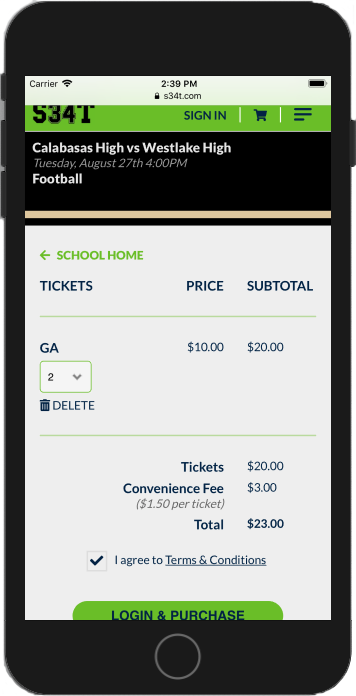 STEP 9:

CART PAGE

If you are signed in or just created an account you are back on cart page.

Click the purchase button to continue.
STEP 10:

PAYMENT INFO

Enter your credit card infomation and click the checkout button.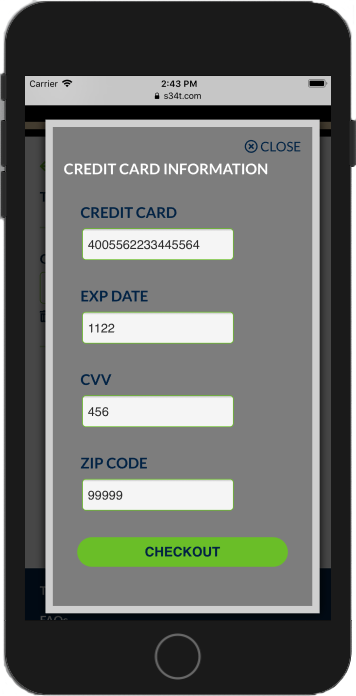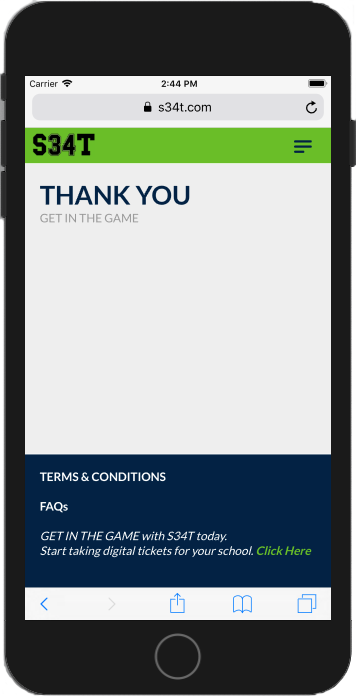 STEP 11:

THANK YOU

Thank you

You will receive a confirmation email with your tickets or you can click the hamburger menu in the top nav.

Click on YOUR TICKETS to view your tickets.
STEP 12:

ALL TICKETS

In YOUR TICKETS section you will see all purchased tickets listing number purchased.

Click tickets for the game you would like to access.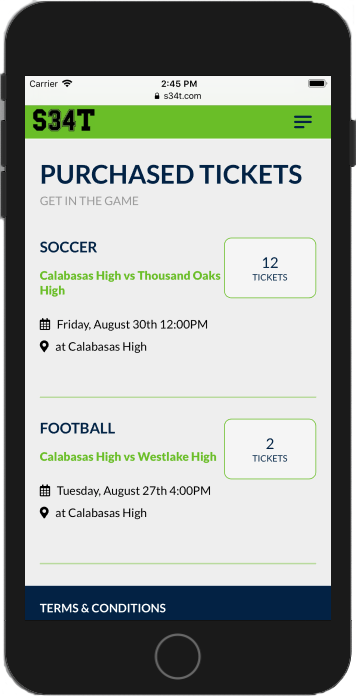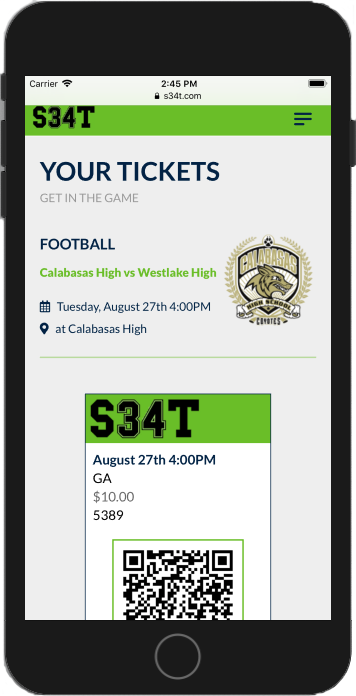 INFO:

EVENT TICKETS

Here are you tickets for game selected.

Tickets can be scanned at the gate for entry.

You can also print your tickets if you want as well.
INFO:

PROFILE PAGE

If you need to update any of your information you can do so under YOUR PROFILE.